Pathways School Gurgaon
Consistently Ranked #1 Best International Day School in Delhi NCR and North India.
Shashwat Agarwal
Don't be afraid of new things, and don't say no just because you're uncomfortable
November 2018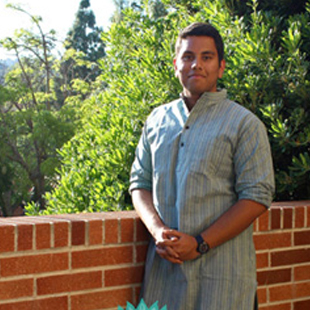 A Pathways School Gurgaon graduate, Shashwat Agarwal is fondly remembered as the Valedictorian of the batch 2016. He also topped the class with a remarkable IBDP score of 41. He is a perfect example of an achiever, who looks towards creating milestones out of every challenge life gives him.
Currently a student at UCLA, he is also the Director for two notable groups on campus. We wish him good luck for all the new ventures and future goals.
Shashwat Agarwal Interviewed by Pathways
Q1. Please give us a brief of what you are currently engaged in.
I'm studying at UCLA, pursuing Business Economics. Apart from my academics I am part of Indus Bruins, a south Asian coalition group, and LEAP, a leadership and education program dedicated to improving middle school children education and tutorship.
Q2. A note on your childhood.
I was born in Varanasi, UP. My dad is from Bihar and my mom from Varanasi. My dad did MBA from IIM Ahmedabad, and my mom did CA from Banaras University.
Q3. You were a brilliant student of 2016 Batch at Pathways, you got admission at UCLA, how has your Journey from Pathways to UCLA been so far?
It's been a tremendous journey. It's been very enriching, taught me many lessons and helped me develop some very important skills. Pathways laid the foundation upon which I feel I have grown more as an individual.
Q4. You are currently Volunteer Director for Leadership Education Advancement Program (LEAP) at UCLA. How did you chance upon this opportunity and what is this program all about?
I discovered this group during Week 1 of college, where all groups on campus attempt to recruit new members. I liked their project, as mentorship is something I particularly find rewarding, and felt that this group allowed me the opportunity to continue with an activity I enjoyed in high school.
LEAP goes to lower income middle schools in South LA and offers after school tutorship and mentorship services. We help them with their homework; do workshops on topics ranging from bullying, mental health to politics, and work on team building and leadership training exercises. In short, we offer a more wholesome experience to their education.
Q5. We hear you are also Director of Finance for Indus Bruins. What is this group all about?
Indus Bruins is a South Asian political group that aims to create a space for discussion and deliberation regarding various issues, identities and cultures associated with South Asia and their place in the current global scenario.
Q6. We can see you are into a lot of volunteer work. What motivates you for this?
Volunteering at LEAP per se is a very rewarding experience because it helps me give back to the community, and enriches my own experience at college. Indus is not particularly a volunteer work, but I enjoy contributing wherever I can as it allows me to keep an Indian friend circle and ensure I don't lose track of my roots and culture.
Q7. Where do you see yourself 5 years from now?
Hopefully 5 years from now I would have graduated from UCLA and would be interning/working at a good company. Fingers crossed so far.
Q8. What special memories do you cherish of your time spent at Pathways?
I cherish the time spent in Anindita ma'am's room, just relaxing on the couch and talking about absolutely everything. I miss the lunches where we'd always spend more time and Ruchika ma'am would have to come and tell us to go to classes.
Q9. What would you do differently if you had a chance to turn back the clock?
I would try to improve my Spanish grade, and work more on my Extended Essay. I felt I could have done a better job.
Q10. Your advice to the current class graduating from Pathways?
You're about to experience a massive change in your life; make sure you appreciate everyone around you before taking the big step. And relax, take it easy; you're adults now. Decisions will come naturally to you. Remember to always value your own judgment; at this point in time we should make mistakes, learn from them and grow as a person. Don't be afraid of new things, and don't say no just because you're uncomfortable; step out, challenge yourself, and expand your horizons.
Q11. Your message for your batch mates ?
I hope you're all doing well. I cannot wait to see you guys again.